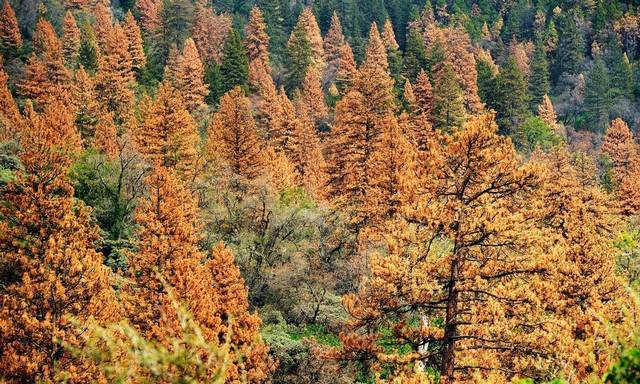 Since 2012, record drought and record temperatures, have weakened trees throughout California, resulting in millions of acres of failing forestland that then become vulnerable to disease and infestation. Infestation, such as those caused by native bark beetles, have caused tree mortality of epidemic proportions.
The scale of tree mortality in California contributes to significantly increased wildfire risks, and presents life safety risks due to falling trees that can injure or kill people.
Due to these increased risks, California and Tulare County have proclaimed states of emergency for tree mortality.
On September 7, 2016 the USFS approved Tulare County's removal plan. The attached memo is a sign-off on permission for similar removals along an estimated 60 miles of county roads: Arterial Roads Decision Letter.
Proclamations
On October 6, 2015, the County of Tulare proclaimed a local emergency due to tree mortality, which increases threats to public health and safety, including fire, falling tree/debris, and air quality hazards, and requested that the Governor proclaim a State of Emergency and that the Governor request a Presidential Declaration of Emergency or Major Disaster.
On October 10, 2015, Governor Edmund G. Brown Jr. proclaimed a State of Emergency and sought federal action to help mobilize additional resources for the safe removal of dead and dying trees. This proclamation builds on Governor Brown's April, 2014 Executive Order to redouble the state's drought response, which includes provisions to expedite the removal of dead and dying hazardous trees. Governor Brown's proclamation also calls for state agencies to take several actions to enable removal of hazard trees.
Task Forces
The County of Tulare and the State of California have established Tree Mortality Task Forces. Tulare County's Tree Mortality Task Force is comprised of the following public and private partners:
Fire Disciplines
California Department of Forestry and Fire Protection (Cal Fire)
United States Forestry Service
Tulare County Fire Department
Transportation Disciplines
Caltrans
Tulare County Resource Management Agency
Parks
National Park Service
Tulare County Parks and Recreation
California Department of Fish and Wildlife
Utilities
Pacific Gas & Electric
Southern California Edison
County Agencies
Tulare County Board of Supervisors
Tulare County Counsel
Emergency Management
Tulare County Office of Emergency Services (OES)
Governor's Office of Emergency Services (Cal OES)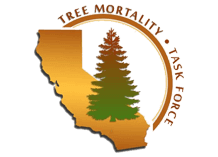 The State's Tree Mortality Task Force is led by the Governor's Office, Cal Fire, and Cal OES, and is comprised of public and private partners listed HERE. For a comprehensive list of Working Group members for the State's Tree Mortality Task Force, please see its Incident Action Plan.
Both the State's and the County's Tree Mortality Task Forces are structured as a Multi-Agency Coordination (MAC) Group, and meets monthly to exchange information and updates amongst stakeholders. Participants are encouraged to discuss needs and concerns, and leverage each other's subject matter expertise and resources to further response efforts.
Guidelines for High Hazard Zone Tree Removal
The State's Tree Mortality Task Force, Regulations Working Group, has released its final Guidelines for High Hazard Zone Tree Removal to assist in the implementation of Governor Brown's October 30, 2015 Emergency Proclamation for dead/dying tree removal in High Hazard Zones, as identified by CAL FIRE's Tree Mortality Viewer.
Read the final Guidelines for High Hazard Zone Tree Removal
Right of Entry Process
If dead or dying trees are located on private property adjacent to the County's right of way, but present an immediate threat to public health and safety (for instance, they threaten infrastructure because they are leaning over the right-of-way), the County may attempt to remove the trees - time and resources permitting. Before the County will remove any trees originating from private property, the County will request that property owners sign a "Right-of-Entry" agreement form, which contains insurance, indemnification and release provisions that meets Cal OES/ California Disaster Assistance Act requirements for reimbursable debris removal work.