2023 March Storms
Tulare County Flood Hotline: (559) 802-9791
Tulare County Recovers Website – Tulare County officials have launched a NEW website providing the latest recovery and assistance information. Visit tularecounty.ca.gov/recovers/ to learn more.
Has your property been damaged by the recent March 2023 storms?
Report your damage on Tulare County's Property Damage Form available online, click here. Anyone in need of assistance completing the Property Damage Form can call the Tulare County Flood Hotline at (559) 802-9791 between 8 am – 5 pm.
Tulare County officials are seeking assistance in documenting damage from the recent severe weather event. This information will be used to assist in collecting consolidated impact information and will be provided to State and Federal agencies as they assess damages. Completing this survey is not an offer of financial aid.
2023 Tulare Flooding Incident Structure Status Map – Damage inspections and assessments are ongoing in Tulare County. The 2023 Tulare Flooding Incident Structure Status Map provides the known status of damaged structures. Addresses may be entered into the search bar to find a specific location. If your property has been damaged due to the 2023 March Storms and does not appear on the map or has not been inspected yet, you can submit a Property Damage Report here.
With the recent and ongoing flooding, rains, and severe weather conditions, the Tulare County Agricultural Commissioner's Office is requesting information from the ag industry partners regarding the estimated economic loss of crops/livestock/etc. due to these flood events.
Farmers, growers, dairymen, ranchers, and all agriculture producers are encouraged to report their crop/livestock damage estimates to the Ag Commissioner's Office by completing the survey at: https://www.surveymonkey.com/r/TulareCountyAgDisasterSurvey. If needed, this survey can be completed multiple times due to space limitations.
Winter storms have caused significant damage and, in some cases, devastating losses. By filing a claim for reassessment with the Tulare County Assessor's Office within 12 months of the date the property was damaged, owners of properties that have sustained a minimum of $10,000 in damage may be eligible for a refund of taxes already paid and lower annual tax bills until the property is repaired or rebuilt.
Once the repairs are completed, the property assessment will be restored to its previous value (in addition to annual adjustments, if applicable) so long as the property is rebuilt in a similar manner.
Tax relief is available for all types of properties including homes, commercial and industrial buildings, agricultural properties, manufactured homes, and business and personal property. Damage to vehicles, home furnishings, and personal effects are not eligible for this type of relief because they are not locally
assessed.
An Application for Reassessment of Property Damaged or Destroyed by Misfortune or Calamity will be mailed upon request by calling the Tulare County Assessor's Office at (559) 636-5100. An application can also be downloaded by clicking here.
Tulare County Public and Environmental Health offers guidance and information for your health and safety. For homes with water intrusion, be aware that flood water may contain sewage and other containments. Flood waters and standing waters pose various risks, including infectious diseases, chemical hazards, and injuries. For further information on safety measures in returning home after flood, click here.
Once the flood waters have lowered in an area, many dangers may remain. Follow these precautions when returning home. For further information on safely returning home after flood, click here.
Find the latest information on road and bridge closures due to storms and flooding, visit the Tulare County Resource Management Agency (RMA) website by clicking here. To report road or bridge damage caused by flooding, please call Tulare County RMA at (559) 624-7000.
During the stormy season, sandbag sacks and loose sand is available to the public. For more information please click here.
Emergency Preparedness: Evacuation, Wildfires, and Heat Events
When a disaster occurs, Tulare County wants you to be as prepared as possible by providing preparedness tips and steps to take in the event of an emergency. Click here to read more.
Other Active Emergencies in Tulare County:
2019 Coronavirus (COVID-19)
Visit the Tulare County COVID-19 Website to learn more about local response and recovery efforts.
Tree Mortality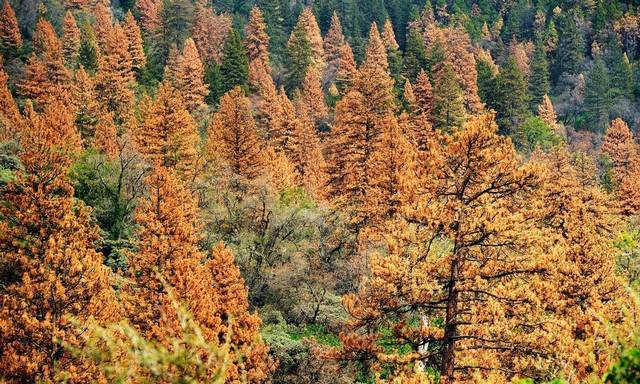 Since 2012, record drought and record temperatures, have weakened trees throughout California, resulting in millions of acres of failing forestland that then become vulnerable to disease and infestation. Infestation, such as those caused by native bark beetles, have caused tree mortality of epidemic proportions. The scale of tree mortality in California contributes to significantly increased wildfire risks, and presents life safety risks due to falling trees that can injure or kill people. Due to these increased risks, California and Tulare County have proclaimed states of emergency for tree mortality. Click to read more here.