To help keep usable and recyclable materials out of our landfills, the Solid Waste Department of Tulare County provides a landfill salvage program.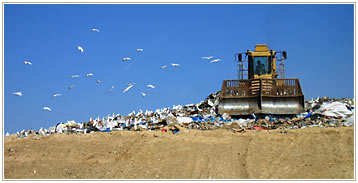 If you have been out to our landfills before, you are probably aware that we salvage various materials. A recovery area is set up where you can divert wood and green waste, metal and white goods, tires and mattresses.

Tulare County currently owns and operates two landfills with salvage programs:
Visalia — Northwest of the city of Visalia on Road 80
Woodville — Road 152 in Tulare
The County asks you to separate metal and white goods, green and wood waste, and tires from your general refuse so that it it can be dropped into a separate recovery location for recycling. The scrap metal is recycled and it is very possible that something you own may have been made from scrap metal from our landfill. All material diverted to the landfill salvage area is recycled and kept out of the landfill.
Wood and Green Waste Program

Clean, separated loads of wood and green waste are placed in a separate recovery area and accepted at the two County landfills. Wood and green waste comes from commercial activities such as building construction, furniture manufacturing, and wooden crate and pallet manufacturing. The construction and demolition of buildings generate almost 12% of all solid waste in California. Wood and green waste also comes from residential activities such as landscaping, branches and trees, and yard clean up and maintenance. Once the material is collected at the landfill, a vendor grinds and removes the material. It is then transported to a composting facility where it is either composted and used as a soil amendment or sold to cogeneration facilities as fuel.
Guidelines for Salvage
Wood and green waste must be free of contaminants, such as dirt, rock concrete, plastic, metal and other contaminants which can damage wood waste processing equipment, and reduces the quality of the compost.
In general, the cleaner the wood the better!
No yucca leaves, palm fronds or bamboo are accepted as green waste. This material cannot be included in the salvage program and must be landfilled.
Treated wood is not accepted

A decreased tipping fee is charged for loads containing only wood and green waste, so separate your wood and green waste from your trash and save money!
Metal and White Goods Program

Clean, separated loads of metal, tin and white goods are placed in a separate recovery area at the two County landfills. White goods include, but are not limited to, large appliances such as washers, dryers, refrigerators, stoves and dishwashers. Please remove doors and contents of refrigerators and freezers.
Tire Program

California is faced with the significant challenge of diverting or safely managing more than 33.5 million reusable and waste tires generated each year. We accept whole car, truck and tractor tires at the two County landfills. It does not matter if the tires are on the rims or not. State law requires every person who transports 10 or more tires to be a registered tire hauler and have a completed California waste tire manifest.
Pesticide Container Program

The County no longer accepts pesticide containers. Please contact the Tulare County Agricultural Commissioner.
Inert Recycling

The County encourages inert material such as concrete, asphalt, brick, ceramic tile and porcelain to be recycled. Call these inert recyclers for additional information on fees and acceptable material. Inert recyclers in Tulare County are as follows:
Glen Wells, Goshen, 625-0695
J V Recycling, Tulare, 685-0504
Mitch Brown, Porterville, 781-6389
Helpful Tips
Separate your trash from items that are recyclable before coming to the landfill – metal, tin and white goods, wood and green waste, and tires.
Put your trash and waste at the front of the pick-up or trailer or on the bottom of the load. Then place the material that you can separate at the back of the pick-up or trailer or on the top. If you are doing a home remodel, for example, put the wood scraps on the top or at the back-end of the pick-up or trailer. Put the recyclable material where it is handy to unload in the recovery area. Remember, we charge you extra for an uncovered load, so save some money and cover your load!
You will be directed to the recovery area to unload your material as directed by the attendant.
Questions or Comments

If you have any questions regarding the materials that we expect to collect or how to separate them, we have stationed one of our staff members in the recovery area to answer any questions that you might have. In addition, if you have any other questions, you can call the County's Recycling Coordinator at (559) 624-7195.