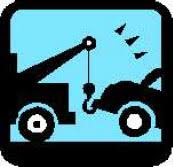 The Abandoned Vehicle Abatement Program (AVA) was implemented by the State Legislature under Sections 22660-22664 of the Vehicle Code of California to remove abandoned, wrecked, dismantled, or inoperable vehicles or parts thereof, from private and public property as nuisances.
These nuisances must not be visible from the street or any other public or private property. Exceptions to the legislation are such that a vehicle may be completely enclosed within a building, in a lawful manner. A vehicle may also be stored or parked, in a lawful manner, on private property in connection with the business of a licensed dismantler, licensed vehicle dealer, or a junk yard.
Voluntary compliance is generally achieved as a result of collaborative efforts from both property owner, registered vehicle owner and County staff.
In cases resulting in County Abatement, our inspectors verify violations, mark vehicles, post notices of intent to remove, and arrange tows for improperly parked, abandoned, wrecked, dismantled or inoperative cars, trucks, RVs and trailers.
To report an abandoned vehicle, or for additional information regarding the Abandoned Vehicle Abatement Program, please call (559) 624-7060 or fill out our online citizen request form.