Program Process
Application: Property owner will need to fill out the County Curb & Sidewalk Repair Reimbursement Program Application (Click Here) and submit to EncroachmentPermits@tularecounty.ca.gov.
Pre-Approval: The County will complete a pre-construction inspection of the project and give a pre-approval letter with plans. The pre-approval package will also include an explanation of potential costs that are eligible to be reimbursed based on the type of work, requirements for property owners for selecting contractors, and steps for the reimbursement process.
Permits: County encroachment permits will still be required for the project. Property owners must inform their contractors to obtain valid permits before proceeding with the work. Moreover, please note, contractors working on these improvement projects would be required by Labor Code section 1720 to pay prevailing wages to their employees working on the projects.
When applying for the encroachment permits, the property owners will need to include the pre-approval letter, an estimate, and construction plans to EncroachmentPermits@tularecounty.ca.gov. Once a permit is issued, an Approval letter will be mailed to the property owner. Applicants who have received approval of their applications and have obtained the necessary encroachment permits may proceed with the work at their earliest convenience.
Construction: Once construction is completed, the property owner will pay the contractor. The property owner will then provide the following to the County: an email with proof of payment (receipt), invoice from Contractor, property owner's W-9, and a copy of the Approval letter to RMA-AP@tularecounty.ca.gov.
Reimbursement: The County will complete a post-construction inspection at the property. Upon a successful inspection, the County will then process the request for reimbursement and sends the applicant a letter which includes the finalized application. A reimbursement check will be mailed to the property owner within approximately 6 weeks.
Reimbursable Types of Work:
Curb and Gutter - $25 per linear ft.*
Sidewalk - $15 per linear ft.*
ADA Ramp - $1,400 per ramp (gutter not included) *
*Total reimbursement work shall not exceed $4,000
Before: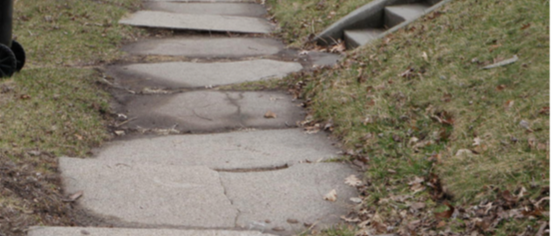 After: