Location: Main and Davis Street, Pixley

Incident Date: 1-4-21

Incident Time: 2000HRS

City: Pixley

Posted by: Media Relations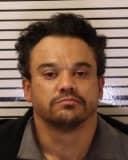 Just before 8 p.m. Monday, TCSO Deputies conducted a traffic stop in the area of Main and Davis in Pixley. The driver, Octavio Castaneda of Pixley was on probation for possession of a stolen vehicle. Castaneda also had an active warrant for violating the terms of his supervised release.
Castaneda was arrested and when Deputies searched his home, they found about 19 pounds of methamphetamine.
Castaneda was booked into the South County Detention Facility for Possession of Methamphetamine for sales, being a Convicted Felon in Possession of ammunition and having an outstanding warrant.
Anyone with information is encouraged to call the Tulare County Sheriff's Office at 559-733-6218. Or send anonymous information by text or email to TCSO@tipnow.com or Call (559) 972-2568.